We Now Offer OSHA-10 Classes
click HERE for information
We offer on-site private Lead and Asbestos classes for groups of people. On-site classes
reduce cost and travel time and are a great way to receive private and personalized training.
Call 414-481-9070 or email heather@mlaic.com for more details.

CLICK HERE FOR INFORMATION ON ARC FLASH TRAINING!



MLAIC Spanish Lead Safe Renovator Initial Classes Now Approved & Accredited By WI DHS & EPA
(What this means for you is that you can work in Wisconsin and you would be able to apply to the EPA to become accredited by the EPA in order to work in EPA authorized states)


Click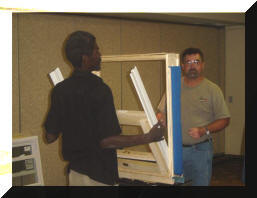 HERE to connect to a page with all of the lead paint information you need to know. Resource Directory
Company Information
Milwaukee Lead/Asbestos Information Center, Inc. is the largest
lead paint abatement training provider in Wisconsin - trained over 39,000 contractors since 1987. Our trainers have a combined total of 54 years of field experience and 45 years as trainers.

sconsin Lead Wisconsin Asbestos DHS161 Wisconsin Asbestos
Receive CEU's for Dwelling Contractor Qualifier through the Department of Safety Professional Services by attending our courses.

Over 7,000 Lead Safe Renovators trained since September 2009! Over 10,000 Lead Safe Workers trained since the year 2000! Sign up now!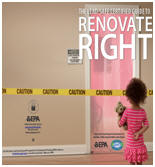 Important Lead Paint information you need to know:
✱ January 2010 New EPA rule published -read the summary, see the Renovate Right pamphlet and the actual rule here.
There are important new requirements for renovators of pre-1978 property and all rental property owners of pre-1978 property!

The rule went into effect April 22, 2010!
The new rule applies to all pre-1978 rental property, pre-1978 day care centers, and pre-1978 kindergarten buildings.
Some of the requirements include but aren't limited to:
**1 day training for at least one person on each crew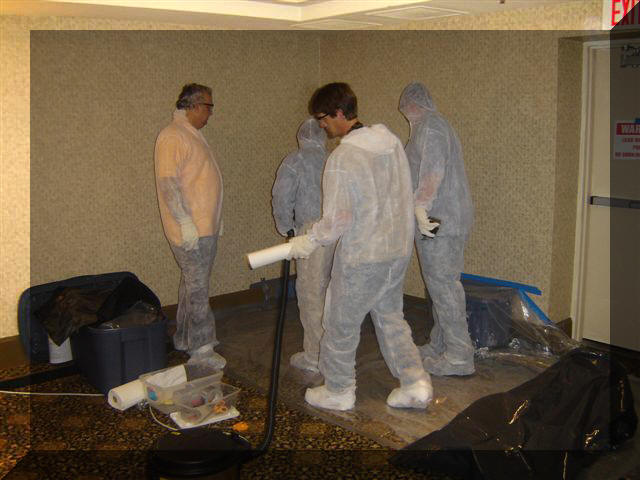 ** Lead Safe work practices
**Verification of cleaning
Click the link above to learn more!
We are also one of the largest lead paint training providers in the country!

We are a distributor of Nilfisk HEPA vacuums and other safety supplies such as respirators and disposal suits.

Great Class yesterday in Milwaukee. You and your company have really got it down. My hat's off to you and your staff and trainers. Discussions were lively, the hands-on skills assessments moved right along, and I believe everyone felt heard even through they may not have liked what is coming down the pike from the EPA. -Steve
Just wanted to take a minute and thank you for accommodating the 8 of us in the lead class yesterday. Even though I don't share your enthusiasm for the law the class was very informative and interesting. Our instructor Eric was excellent and made it interesting. We all commented as to how boring it could have been, Eric was great!-Mike
Wisconsin Lead Wisconsin Asbestos DHS161 Wisconsin Asbestos Wisconsin Asbestos
Wisconsin Lead Wisconsin Asbestos DHS161 Wisconsin Asbestos Wisconsin Asbestos
---
---
✱ Are you a lead remediation contractor looking for organizations that hire contractors? Click here to find a list of agencies that need lead trained contractors.
✱ Are you looking for CEUs for your Dwelling Contractor Qualifier certification? Click here to see the list of classes that are approved for CEU's through the Department of Safety Professional Services!

✱ Here are some other licenses to consider from other departments other than the Department of Health:
Department of Safety Professional Services Building Contractor :
http://dsps.wi.gov/sb/SB-BuildingContractorProgram.html
Department of Safety Professional Services Dwelling Contractor:
http://dsps.wi.gov/sb/SB-CredDwelConExplan0707.html
City of Milwaukee Home Improvement Contractor License: http://www.city.milwaukee.gov/ImageLibrary/Groups/ccLicenses/hicapplication.pdf
Wisconsin Lead Wisconsin Asbestos DHS161 Wisconsin Asbestos
Wisconsin Lead Wisconsin Asbestos DHS161 Wisconsin Asbestos
---
Asbestos Information:
State of Wisconsin Asbestos Certification Rule - Read About it Here!

We are an approved provider of asbestos courses and conduct over 50% of all the asbestos training in Wisconsin. We also offer the full range of asbestos courses including classes in Spanish.
Wisconsin Lead Wisconsin Asbestos DHS161 Wisconsin Asbestos
---
Our Mission
To provide quality training and be a full service company to our clients.
Wisconsin Lead Wisconsin Asbestos DHS161 Wisconsin Asbestos
---
Company Profile
Milwaukee Lead/Asbestos is a member of the National Association of the Remodeling Industry, the American Subcontractors Association, the Metropolitan Builders Association, the Hispanic Chamber of Commerce, the Apartment Association of Southeast Wisconsin and many more associations.
Wisconsin Lead Wisconsin Asbestos DHS161 Wisconsin Asbestos
---
Contact Information
Brookfield Office:
Milwaukee Lead/Asbestos Information Center
3495 N. 124th Street
Brookfield, WI 53005
414-481-9070
Dane County Office:
MidWest Certified Training, Inc.
741 Lois Drive
Sun Prairie, WI 53590
608-318-2266
General Information: rocky@mlaic.com